According to U.S News-The construction industry has experienced a winding road of recovery. The good news for those considering a construction job is that the industry is starting to hit its stride. The Labor Department remains upbeat on this sector, predicting overall employment growth of 13.6 percent, or almost 520,000 new jobs by the year 2024. Plumbers, electricians, carpenters, painters and construction managers will be needed to build new structures and update existing buildings. Find out which construction jobs we consider a cut above the rest,
Selecting the Jobs
To identify the professions that should be included in our 2017 rankings, we started with data on jobs with the greatest hiring demand, or, in other words, those with the highest projected number of openings from 2014 to 2024, as categorized by the U.S. Bureau of Labor Statistics. The jobs that topped the list were then selected for the 2017 Best Jobs analysis and rankings.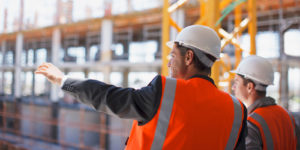 1. Construction Manager
Construction management is ideal for someone who has a general interest in building and design. Architecture might seem like too much drawing. Civil engineering could seem like too much science. Cost estimating is too much math. Carpentry might be too much manual labor. Working as a construction manager affords the chance to learn a construction project from soup to nuts – from the planning stage with architects and engineers, to the budgeting stage with cost estimators, to the production stage with laborers. And that's just a small taste of the job's duties: Construction managers also obtain work permits, hire contractors, troubleshoot emergencies, schedule walkthroughs and keep clients informed on work timetables and progress.
While construction jobs generally dried up in the mid-2000s, hiring is still expected to rise. The Bureau of Labor Statistics forecasts 17,800 new construction manager jobs by 2024, which is an increase of 5 percent
Median Salary $87,400 Unemployment Rate 2.5% Number of Jobs 17800
2. Electrician
Electricians know the ins and outs of designing lighting systems, installing street lights and intercom systems, ensuring electrical work is up to code and repairing electrical wiring. Electricians must go through at least four years of training as an apprentice, followed by the licensing their state requires. Most in the profession specialize in either designing, installing, maintaining and repairing the motors, equipment and electrical systems of businesses and factories or installing, maintaining and repairing the electrical systems of residences.
There are other subsets, like electricians who specialize in iron and steel mills, or electricians who coordinate the lighting for a motion picture or television program. According to the Bureau of Labor Statistics, the most stable employment is for electricians who work for businesses and factories. And this is a profession where employment is expected to blossom. Installing alternative energy sources in homes and businesses requires coordination with electricians, and these professionals are still needed to maintain older electrical systems. The BLS predicts this occupation will grow by 14 percent by 2024, which translates to 85,900 new positions.
Median Salary $51,880 Unemployment Rate 5.7% Number of Jobs 85900
3. Plumber
All it takes is one lousy morning with no running water (or a clogged sink or phantom-flushing toilet) to remind us how dependent we are on the expertise of plumbers. But troubleshooting is just a sliver of their responsibilities. The men and women working in this profession develop blueprints to plan where pipes and fixtures should be plotted in a structure. They also install and connect the piping and fixtures, either working individually or with a team of apprentices and pipefitters. In addition to facilitating water supply from pipes and large fixtures, such as bathtubs, showers, sinks and toilets, plumbers ensure that water reaches appliances like dishwashers and water heaters. The best in the occupation are strong problem-solvers who have mastered customer service and can meet the physical and mechanical demands of the job.
General employment within the construction sector took a nosedive during the recession, but hiring should pick up for plumbers. New buildings and residences are being built to comply with stricter water efficiency standards, and companies housed in older structures are hoping to retrofit to use more energy-efficient systems. According to the Bureau of Labor Statistics, there should be a hiring spurt of 12 percent for plumbers by the year 2024, which translates to about 49,100 new jobs.
Median Salary $50,620 Unemployment Rate 5.9% Number of Jobs 89100

4. Brickmason and Blockmason
Brickmasons and blockmasons are responsible for the aesthetically pleasing facades of buildings that fill cities and towns the world over. They use bricks and structural stone blocks to construct and polish residential and commercial walls as well as patios, decorative trim work and interior structures. The jobs require a high school education plus extensive training and on-the-job apprenticeship programs. Masons must be able to follow detailed building instructions, break or cut brick and stone to the proper sizes, mix and apply mortar and grout and assemble and finish the required structures. "Brickmasons work mainly with veneer and structural brick. Blockmasons do the structural work," says Al Herndon, northern apprenticeship representative for Florida Masonry Apprentice and Education Foundation. Brickmasons do predominantly residential work, and blockmasons tend to do more commercial work. On commercial jobs, the line between the distinct crafts of brickmasons and blockmasons has been blurred. "When you get to commercial work, brickmasons and blockmasons do the same thing," Herndon says. "It's not two crafts anymore; it's blended into one."
Median Salary $47,950 Unemployment Rate 9.3% Number of Jobs 14500
5. Glazier
These skilled craftsmen cut and install glass in all types of buildings, from homes to skyscrapers. "It is a physical job as compared to most," says Greg Renne, a former glazier who now works as administrator of the Painters and Allied Trades Labor Management Cooperation Initiative. Glaziers work with large pieces of heavy glass, and much of the work is outdoors and sometimes several stories in the air. Renne says growing numbers of women and older glaziers can be seen on job sites, due partly to technological advances in tools and lift systems. But the work is often physically demanding: Glaziers suffer high job-related injury rates, from cuts as well as falls from ladders and scaffolding.
Although jobs do not require more than a high school diploma, employers are increasingly seeking candidates with math and design knowledge and familiarity with sophisticated construction equipment. As a result, many jobs require multiyear training and apprenticeships. Training requirements and salaries vary in this profession, depending on whether jobs are offered through nonunion or union contractors. Generally, the most demanding and best-paying jobs involve work on high-rise buildings.
Median Salary $39,440 Unemployment Rate 2.5% Number of Jobs 1900
6.Painter
The handiwork of painters surrounds us at every turn. Painters take care of the outside of buildings, city infrastructure and any kind of new architecture development. Ron Yarbrough, founder and president of Pro-Spec Painting Inc., says the painting profession's focus areas are endless – there's something for everyone. "I think there are tremendous opportunities for those that want to enter the painting trade. And I think that [the field] has so many different segments to it – all the way from infrastructure to new construction of commercial buildings and many types of decorative art and restoration." The will and patience to do the work is all it takes to succeed, he adds. "People who are really committed to learning the trade can do well at it. If they set their goals high, they can make a really good living at it." Painters commonly work for building finishing contractors or in the residential building construction industry. Unlike carpenters, painters typically don't build frameworks and structures; they apply paint, stain and coatings to them.
Painters held 360,500 jobs in 2014, according to the Bureau of Labor Statistics. Nearly half of painters are self-employed, and more than one-third work in the painting and wall covering contractors industry. A little more than 26,500 painting jobs will be added by 2024, which is a growth rate of 7 percent, and matches the average growth rate across all professions.
Median Salary $36,580 Unemployment Rate 7.9% Number of Jobs 26500
7. Cement Mason and Concrete Finisher
Any homeowner who has dealt with a faulty foundation knows the importance of a competent cement mason and a concrete finisher. Cement masons and concrete finishers perform specialized masonry work with poured concrete (concrete finishers) and finished concrete (cement masons). The jobs are usually outdoors on construction sites and may be physically demanding. Seasonal work is common in colder climates. Required skills are similar throughout the country, but building codes and the weather have an impact on local working conditions. Knowledge of the properties of cement is essential, including how variable weather conditions may affect the pouring, leveling, setting and finishing processes. Cement masons doing decorative finished work employ design skills. Commercial projects can take years and demand more specialized skills, while residential projects may require only a few days.
Concrete finishers pour wet cement into various forms and tend to work on foundation slabs, sidewalks, roads, curbs and other ground-level projects. Cement masons then work with the finished cement forms and mortar to erect walls and other above-ground structures. "The cement mason's work begins where the finisher leaves off," says Al Herndon, who oversees masonry training for the Florida Masonry Apprentice and Education Foundation. Some masonry projects, particularly smaller residential jobs, require one mason to do both cement and concrete work. But at larger, commercial jobs, there is likely to be several masons. Cement masons need to be able to follow detailed directions to make complex building components. Concrete finishers must know how to work quickly and effectively to pour and shape concrete. "You have to do it correctly the first time," Herndon says. "You don't get a second chance with cement."
Median Salary $37,740 Unemployment Rate 7.8% Number of Jobs 20300